"Because vision matters for better learning"
The best choice for classrooms, conference rooms or anywhere you give presentations, teach or collaborate
BenQ Interactive Flat Panels combine the power of touch technology and multimedia connectivity to maximize the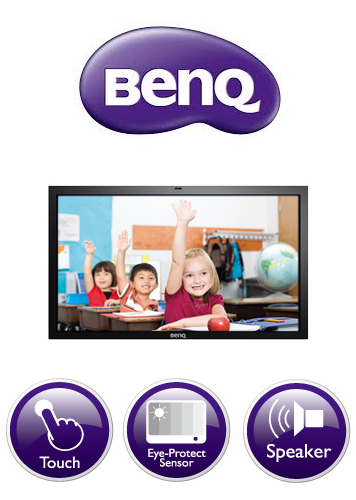 learning experience of all types of learners.
Interactive displays have become one of the most powerful teaching tools today, replacing traditional classroom instructions with a new style of learning that's research-proven to enhance academic performances, collaborative learning and team building. A perfect solution for e-classrooms, the BenQ Interactive Flat Panel T650 combines the power of touch technology and multimedia connectivity to maximize the learning experience of all types of learners. Designed with safety and flexibility in mind, the T650 is easy and simple to install in any classroom setting using a VESA wall mount.
Optical Sensing Touch Technology
Built with the Optical Sensing Touch technology, the T650 allows you to control your computer directly by touching the screen. It's faster, easier and far more precise when all you need to do is point and touch with the tip of your finger. Connect your computer to the T650 with a USB cable to get started!
Optical Dual Touch Technology
Pair the T650 with Windows 7 and watch the Optical Dual Touch Technology works its magic turning the displayed image into a multi-touch screen. Teachers can invite two students to come up to the board for a quick one-on-one contest.
The T650 is built with an ambient light sensor to detect the amount of ambient lighting in its surrounding and adjust the display setting accordingly without user intervention. This means teachers and students can always enjoy optimal picture quality in class.
To help teachers enrich their class with multimedia learning resources, BenQ has built 12W speakers into the T650. The use of videos, music and sound effects make every lesson more engaging and effective.
BenQ Interactive Panels;
BenQ IL420
BenQ RP552
BenQ RP652
BenQ RP702
Please use the links on the right to view further details on these models.