"A key component of your system"
RAM (Random Access Memory) is an essential component in any computer, laptop or server. The more RAM modules you house in your machine, the more efficiently it will run.
Eurocoms can supply a wide range of RAM modules and have a great selection of some cost effective brands that performance rivals that of the major vendors.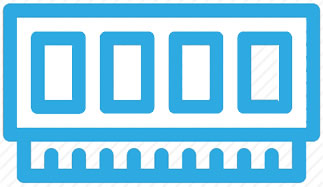 From a simple 1GB DDR2 Module to fit into a desktop PC all the way up to a 32GB DDR4 to increase the work rate of powerful servers.
Laptop RAM (SODIMM) is also an area where Eurocoms can provide, ranging from 1GB modules up to 8GB modules
For an even bigger money saver, Eurocoms are keen on promoting the use of Refurbished modules. Refurbished means that it has been previously used in another machine, however it has been revitalised by the manufacturer so it appears as new, does the same job as a brand new unit, except it's cheaper.
If you'd like any more information on new or refurbished RAM, give our sales team a call today on 0800 009 6776.
Our experienced sales team will be able to provide advice and pricing on your memory requirement.